Effortlessly Manage Your Fares and Routes with DIGIPARC: Streamline Your Operations and Save Time
In the world of public road transport, a route is much more than just a trip from point A to point B. At its core, a route is a complex configuration of factors, from departure and arrival points to distance, driver bonuses, and even stop points. Fortunately, with DIGIPARC, configuring these critical elements has never been easier.
Our cutting-edge solution enables public road transport companies to seamlessly and efficiently manage their routes, ensuring optimal performance and passenger satisfaction.
Unlock Seamless Efficiency in Your Transport Operations with DIGIPARC's Multi-Agency Management Features
DIGIPARC offers a streamlined solution for multi-agency management, enabling you to easily oversee multiple agencies that share the same data repository. This is particularly useful for transport companies with multiple establishments, as it allows for efficient and centralized management within a single instance.
Your agencies will be simultaneously connected to the same system.
This allows each agency to easily manage seat availability and make changes to travel or luggage tickets for their own routes.
Streamline Your Travel Experience with DIGIPARC's Lightning-Fast Ticket and Luggage Editing
Looking for available seats and making changes to your travel and luggage is quick and easy with DIGIPARC. By accessing the travel sheets, you can see which seats are available for each trip, including their respective numbers. With this information, you can easily edit and print travel tickets and luggage based on the available seats. The "Bookings" interface allows you to simply click on an empty bus seat and select the relevant customer type to make a reservation. DIGIPARC automatically calculates the price of the ticket based on the prices stored in its repository and any applicable discounts for the customer type selected.
Printing Your Ticket is Easy: A Step-by-Step Guide for Obtaining Your Ticket from DIGIPARC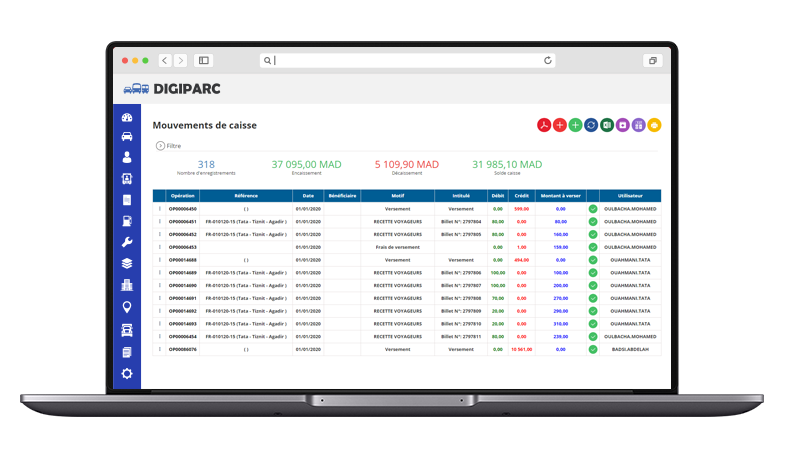 Effortlessly Monitor Your Sales with DIGIPARC's Connected Cash Register
DIGIPARC provides daily cash register management for all transportation agencies within your company. This means that each agency will receive a comprehensive report at the end of the day, outlining their cash inflows and outflows, as well as their daily balance.
The daily financial report for each agency in DIGIPARC reflects both their daily expenses (such as water bills, internet charges, and repairs) and their sales of travel and luggage tickets.
Maximize Your Transport Efficiency with DIGIPARC's Customizable Analytics Dashboard
Gain access to DIGIPARC's comprehensive and valuable reports, which can be easily printed and exported for effective management and decision-making. With just a few clicks, you can obtain management reports that will prove invaluable in your day-to-day operations. These reports cover a configurable time period (day, week, month, etc.) and provide important information such as agency turnover, driver performance, bus performance, and line performance, as well as revenue by agency, status of reserved tickets and stamps, rolling stock status, trip reports, and turnover trends by line, agency, and bus.